Computer Technology Encyclopaedia of Sign Language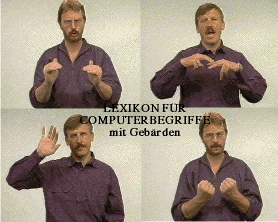 Computer Technology Encyclopaedia of Sign Language
This project was concluded in 1993; the encyclopaedia is available as CD-ROM for Apple Macintosh, as well as in video and book form.
This example (one of about 1500 lemmas) shows the various information units contained within the lexicon.
A complete mapping of CLex is currently under construction. Please note that the only signs currently available are those for "abacus" and "flow chart" and the for generic term "arithmetic".
Year: 1993