The Vocabulary Book – A General Dictionary of Sign Language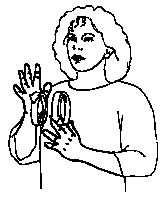 The General Dictionary of Sign Language is not intended to be a scientific dictionary. It covers the sign illustrations that are collected and used within the DGS courses run by the Institute for German Sign Language. It therefore makes no claim to completeness, or that empirically correct survey methods were used in compiling it.
The aim of the project was to organise this data and make it available. Its structure is therefore limited to either a simple hierarchical structure of headings with their assigned lemmas or an alphabetical list of lemmas. The alphabetical order is arranged according to the German glosses. It is not possible to search for the gestures independently of their phonetic lemmata.
The General Dictionary of Sign Language is intended for anyone participating in a sign language course. It is not to be understood as a course in itself, since it is merely a rudimentary dictionary with barely any coverage of grammatical aspects.
Coordination: Thomas Hanke